✕
In 2010, while on a research trip in Mexico City, the architectural historian Barry Bergdoll, at the time the chief curator of architecture and design at the Museum of Modern Art in New York, came across a building that struck him, he says, with the force of "a traffic accident." Composed of staggered concrete slabs, the tower, Bergdoll says, "looked like a SuperDutch from 1998, but it was Mexico in 1975." Designed by Juan Sordo Madaleno, that tower made its way into Bergdoll's 2015 MoMA exhibition Latin America in Construction: Architecture 1955-1980, the thesis of which, Bergdoll told me, was "to show how many innovations and ideas originate in Latin America." More recently, it led to Bergdoll's work on the current exhibition at Mexico City's Palacio Iturbide, which runs until July 9 and celebrates the 80 prolific years since Sordo Madaleno founded his eponymous firm.
Arranged around the 18th-century palace's grand central courtyard, the exhibition, called Shaping Transformation (rendered in Spanish as Transformación Urbana, or Urban Transformation) follows the work of Sordo Madaleno's three generations of architects with an emphasis on the radical changes that have made and remade Mexico City's landscape over the last century. By far the most compelling elements of the exhibition focus on the firm's founder, an under-sung participant in Mexico's modern movement and among the country's most constant proponents of the International Style.
Augmented by a newly discovered trove of archival materials—the curators uncovered thousands of original plans and blueprints hidden for decades in the crawl-space of the firm's former offices—the displays dedicated to churches, residential buildings, hotels, and offices reveal a builder of singular lucidity and rigor. They also read as a guide to Mexico's evolving architectural aesthetics, moving from the founder's elegant mid-century homes to the late-Brutalist experiments made by Javier Sordo Madaleno (Juan's son and current firm principal) in the 1980s, through the color-blocked monumentality of the 1990s and the steel-and-glass techno-corporatism of the present. Here, Sordo Madaleno emerges as Mexico's answer to Skidmore, Owings & Merrill, adapting with unabashed vigor to perpetually changing market forces.
Photo by Andayvé/Oscar Hernández + Armando Juárez
Roughly half of the exhibition focuses on large-scale commercial projects like Juan's first shopping center, designed in the 1970s for the American-style suburb known as Ciudad Satélite (one of several real estate developments spear-headed by Luis Barragán, the architect's close friend and sometime collaborator). Fascinating film footage from the mall's early years shares space with elaborate models of the firm's multi-use complexes in wealthy districts of Mexico City and Guadalajara. Here, the show feels less documentary than polemical, built around the argument that, in the post-industrial 21st-century, shopping malls—a form imported from the United States—serve as powerful generators of urban growth (or, less euphemistically, gentrification). This was certainly true for the upscale shopping center and office park Antara, located at the northern end of the swish Mexico City district of Polanco. Built over a former General Motors factory, Antara remade an industrial district—and the adjacent middle-class neighborhood of La Granada—into a cluster of high-end apartments and offices anchored by a pair of popular museums and handily rechristened as Alto Polanco.
It's also true that such transformations benefit a limited segment of Mexican society, a fact that the exhibition conspicuously neglects to address. Organized around open-air promenades lined by international chains like Benetton, Hugo Boss, and Zara, these malls are superior to most of their ailing U.S. counterparts in their incorporation of green spaces and have even, in some cases, become lively social centers for their respective neighborhoods—a reflection, more than anything, of the extent to which the Mexican state has ceded its responsibility to build just and livable cities to private interests with no such egalitarian aims.
1
2
Photos by Andayvé/Oscar Hernández + Armando Juárez
The show's climax, occupying the entirety of the Palacio's arcaded central patio, slips from apologia into advertising with an immersive video installation dedicated to a vast development that will replicate the Antara model along a central stretch of the Paseo de la Reforma, the city's grand avenue, a few blocks from the vibrant and frenetic historic center. A pair of nearby models depict, respectively, the building site in the 1960s and circa 2030. In the former, the street is lined with archetypal modernist structures, several designed by Juan Sordo Madaleno and nearly all of them either lost or altered beyond recognition; in the latter, a soaring glass cylinder seems to have touched down from outer space (or, perhaps, the City of London). Upon completion, it will contain a luxury hotel, ample office space—the need for which is less than obvious given the presence, barely a block away, of a commercial tower that has been mostly empty for years—and ground-level retail arrayed along pedestrian walkways. The implicit parallel with Antara is clear. Here, the complex ecosystem of small businesses, mixed-income residences (admittedly under-inhabited), and government offices that make up the Centro takes on the role of Antara's post-industrial sprawl: ripe for "transformation."
Photo by Andayvé/Oscar Hernández + Armando Juárez
Given the potential impact of Juan Sordo Madaleno's recently uncovered archives, it's a shame not to see more of those documents in the Palacio's limited display space. Those that do appear, arranged with tremendous care and clarity by Bergdoll alongside radiant gelatin prints, are as illuminating as they are beautiful. Ultimately, the show does succeed in demonstrating how profoundly urban development has changed in the last century. "The work of the firm and the development of the city are completely intertwined," as Bergdoll rightly points out. "The three generations have participated in the modernization of Mexico City, but modernization is also shaping the firm." If only the vision for that modernization had emerged from ideas and innovations that originated here.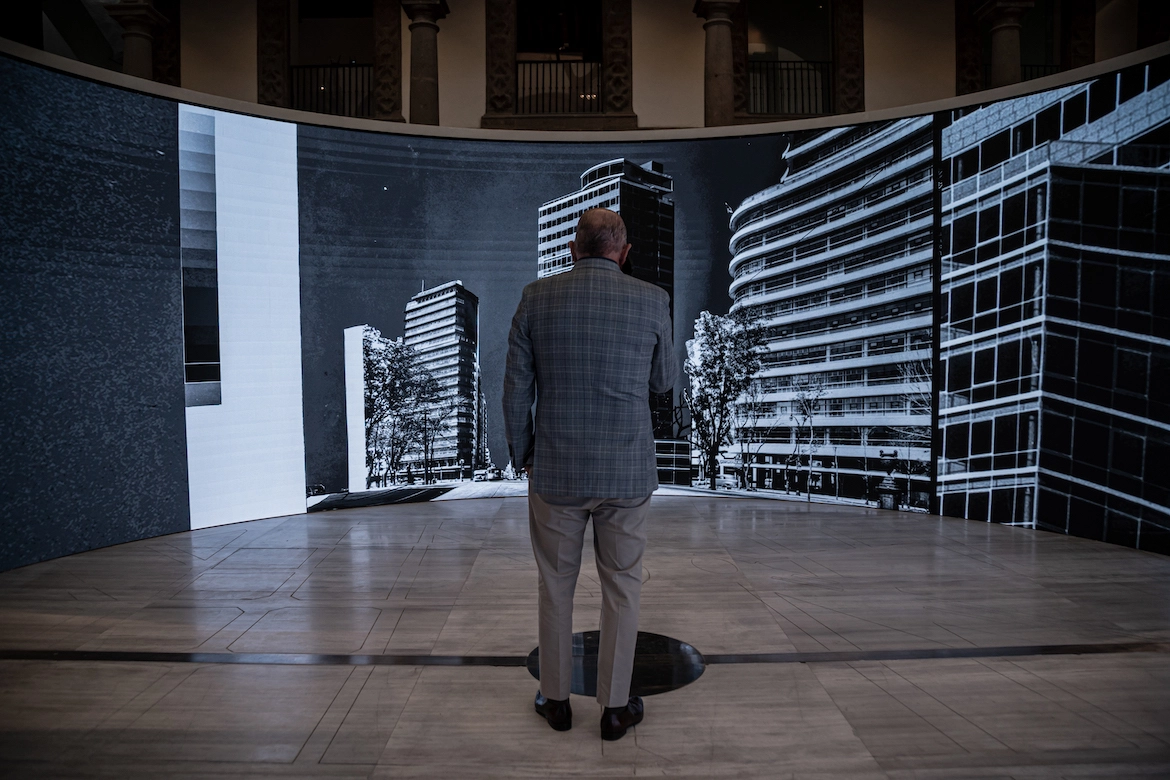 Photo by Andayvé/Oscar Hernández + Armando Juárez
Shaping Transformation
is on view through July 9 at Palacio de Cultura Citibamex – Palacio de Iturbide, Mexico City. Visitor information can be
found here.